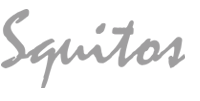 Squitos the non toxic mosquito repellent patches for babies and children!
Squitos is a new mosquito repellent products developed specifically for children. The cherry animal stickers can be stuck for example on clothing, beds or the buggy to protect children for up to 72 hours against mosquitos. The stickers are 100% natural and do not contain DEET. This makes Squitos suitable for even the smallest of children (0+).
24 stickers are packed together in a handy tin, containing 6 different cute animals which will protect your children from those pesky mosquitos. Billy the bear, Leo the lion, Olly the elephant. Ralp the raccon, Fritz the fox and Coco the cat make it more fun, as well as easier and safer to keep mosquitos away. The scent combination of eucalyptus and citronella ensures the mosquitos give your child a wide berth. Squitos are an alternative to products containing harmful toxic substances such as DEET.